23
03
2004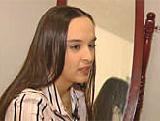 I know everyone is talking about Super Bowl game on February 1st especially half-time where Janet Jackson and Justin Timberlake did silly thing front of millions of people on TV.
Anyway, I talked to Lee Germundson (my cousin) who is sports genius – he claimed that this deaf girl from Houston name Suzanna Christy, did perform during pre-game Super Bowl. Apparently, TV network didnt get her on TV at all which leave many of us disappointed. Again, I think it is still wonderful that she get this opportunity to do it whether she get on TV or not.
To view article about Suzanna Christy online, go to: Click here
More importantly, if you look at past National Anthem Honor Roll at Super Bowl – they have done it for past 12 years with someone in signing. Look at history at National Anthem Honor Roll History then scroll down where you will see history.
Grant W Laird Jr.
http://blog.grantlairdjr.com
Comments :
Comments Off

on Super Bowl 2004
Categories :
deaf community