22
01
2005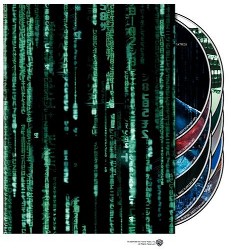 I am huge fan of The Matrix ? I have all three DVD movies but I still want this cool Ultimate Matrix Collection which contains 10 DVDs. I got it for my birthday recently ? I am thrilled about it.
Of course, I was little disappointed that some of those bonus footage do not support subtitle or closed captioning but they offers French subtitle. Maybe I should learn French someday.
Anyway ? this is summary what it comes in The Ultimate Matrix Collection (The Matrix / Reloaded / Revolutions / Revisited / The Animatrix)
These two sets include all three films, The Animatrix, the film footage shot for Enter the Matrix videogame and 106 documentaries. The bonus disks for Reloaded and Revolutions are different from those included in the versions already released.
DISK 1: The Matrix.
DISK 2: The Matrix Revisited.
DISK 3: The Matrix Reloaded.
DISK 4: The Matrix Reloaded Revisited.
DISK 5: The Matrix Revolutions.
DISK 6: The Matrix Revolutions Revisited.
DISK 7: The Animatrix.
DISK 8: The Roots of the Matrix.
DISK 9: The Burly Man Chronicles.
DISK 10: The Zion Archive.
Its only $60 for whole thing at Amazon.com ? grab while it last

To learn everything about Matrix – Click here.
Grant W. Laird, Jr.
http://blog.grantlairdjr.com
Comments :
Comments Off

on Ultimate Matrix Collection
Categories :
general
,
Movies