28
02
2005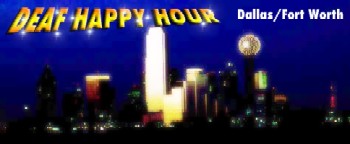 Last Saturday, we host Deaf Happy Hour – DFW at Humperdink's Restaurant & Bar. It went very well – in fact it was overwhelming successful again. From my estimate, we had 200+ during the evening especially in bar area.
We all had great times! Everything seems went well. Unfortunately, the store manager may have underestimated our DHH because lack of waitress and bartender that evening. Otherwise, they did okay – hopefully they will provide more staff next time if we ever host there again. Personally, I did call them twice and informed them about DHH event – this way they will be more prepared. Oh well…
Anyway, we noticed there's majority of people are from Arlington and Fort Worth – interesting because last time we hosted DHH event in Dallas last month at Wizard's Café – it was majority from Dallas area. Bottom line, I had opportunity to meet more new faces; I couldn't ask for better.
Among other things, Humperdink's seems don't monitor age restriction that evening at all, I was told there several underage thoroughly the evening, plus some of them bring their child. I was surprised that manager or waitress didn't do anything about it. Maybe they didn't notice? However, couple of people asked me to do something since me and Brenden are co-host for DHH event, I said no way – its Humperdink's job to monitor and take the action such as underage in bar area.
We did little game called Valentine stickers – what we did is post the color of red, yellow or green dot sticker when people came in the bar. Most of them think it is cool; I can tell couple of guys really looking for girls that have "green" sticker which means "I am available." Red = "I am not available" and Yellow = "Not sure but buy me a drink and find out."
Sure, we debated with couple of people regarding "DPHH vs. DHH" otherwise everyone had good times and pleased with our decision. Majority were supporting DHH and/or "don't care" over DPHH/DHH. We will update DHH photos shortly. Also, we noticed no one played pool tables – maybe they didn't noticed. I wonder…
We announced that we will host our next DHH event at Fox & Hound in southwest of Fort Worth for March and Dave & Buster in Frisco (Near Plano) for April. We are looking forward another more exciting event.
DHH website: http://www.dhhdfw.com
Grant W. Laird, Jr.
http://blog.grantlairdjr.com
Comments :
Comments Off

on DHH – DFW at Humperdink's – Successful
Categories :
deaf community
,
general
,
Local