31
05
2005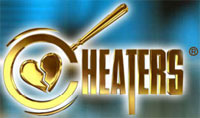 Couple of weeks ago, I accidentally discovered TV show called Cheaters. It's been nothing but interesting to watch this 30 minutes long daily on cable channel. Also, Cheaters office is from Dallas which isn't too far from my house.
I realized that it may hit hardest on some of the relationship especially on public television but again it help remind us viewers to remember not to cheat your spouse no matter what! If not happy with your relationship, talk to him/her before it gets too far.
I had opportunity to watch some of its shows – often it's full of surprise especially one that a young lady who suspected that her boyfriend have been seeing someone else. With Cheaters team investigate and catch them in action but… it turned out that another lady is really male – he's dressing in woman clothes and wig. Whoa! Interesting show.
Cheaters the reality television show, that confronts infidelity and the breach of trust in an effort to expose relationship problems and help empower the injured party. Cheaters encourages the renewal of temperance and virtue. Now on Cheaters.Com our viewers have the opportunity to look at the stories of heartache and broken relationships.
Address:
4516 Lovers Lane, Suite 104
Dallas, TX 75225
Cheaters website – http://www.cheaters.com/
Check out air times in your area: Click here.
Grant W. Laird, Jr.
http://blog.grantlairdjr.com
Comments :
2 Comments »
Categories :
general
,
Local
,
Movies