28
08
2005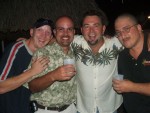 It's my first time to attend Yucatan Liquid Stand last Saturday as part of DHH event and we had wonderful times. This place is interesting – seems to be some sort of warehouse and they have small swimming pool and plenty of sand volleyball fields in their backyard. Lucky, it was nice and hot weather outside – I spend time both inside and outside equally.
We didn't know they are hosting special band event called Sounds of the Hollow. Since we were there pretty early and saw them giving away freebies. (Postcard ad, "M" tattoo and condom – all sponsored by Monster Energy for their band) We all are having fun with their freebies.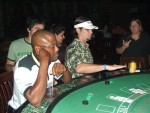 Again, its pretty crowd there – approximately 150-200 people. It's pretty good especially outside Dallas area. We did not stay there very late because Misty's back still bothering her.
Overall, we are pleased with Yucatan environment for DHH event.
We did have quick discussion with DHH committee about New Year Eve (NYE) party. We are more of toward into one of the public pub & restaurant as part of our DHH NYE party instead of rent room at hotel due to insufficient money and lack of sponsors. I am happy with this decision because it is OUR first time host NYE under DHH. If it went well, we will plan bigger one in 2006 for sure!
I am looking forward our next DHH at Coconuts Night Club & Sport Bar in Fort Worth on September 24th. This is first time we actually host restaurant & dance club. See you there!
To view August DHH DFW gallery, click here.
Grant W. Laird, Jr.
http://blog.grantlairdjr.com
Comments :
Comments Off

on DHH DFW at Yucatan Liquid Stand
Categories :
deaf community
,
general
,
Local