19
09
2005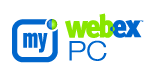 MyWebEx PC is the only remote PC access provider to offer a free and secure remote PC work solution that's easy to set up and use.
Use MyWebEx PC to: 
Access – Use your office & home files, programs and email from anywhere 
Travel – Access your home & work PC with ease 
Telecommute – Work on your office PC from home
MyWebEx PC gives you the ability to access your PC anywhere, anytime for FREE. Conveniently access your files, programs and email whether you're at work, at home, on the road or on vacation. Instant remote control of your PC whenever you need it.
They are absouletly free. They have paid version (more feature & support multipe PC) but I think free edition is sufficient for most of you guys. Look like they only support Microsoft Windows but it also support both IE browser and Firefox browser. (Sorry, Mac)
I have one now and it's awesome. It's perfect whenever your on the road with laptop. Very easy to install on remote PC and dont need to install anything at other site. Just go to their website and hook it up.
Check it out!
Grant W. Laird, Jr.
http://blog.grantlairdjr.com