28
01
2006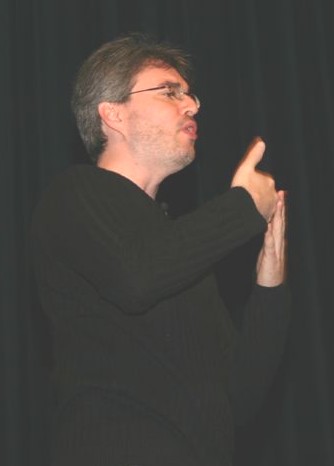 Last Friday, I went to CODA Comedy show at Keller High School in Keller, Texas near Fort Worth. At first I have no idea what it is all about – I was pretty much clueless. Same time, it was their first time to host the show in Texas. They called it "Abababa Tour" show.
I had opportunity to talk to Alan Abarbanell (Abababa), his girlfriend Helsa and his manager Paul Franco (and his family) before the show started. Those folks are really good people – I hope they will have chance to offer show in your area near future especially elsewhere in Texas.
During this show, it was more like storytelling involved funny and sad version. I must admitted I do get tears few times (just don't tell my wife) but otherwise it's enjoyable show. It is something different because I don't think I've ever seen a show performed by CODA before.
I don't want to say more about this show, you just have to see it for yourself. If you happen to see one in your area, don't miss it!!
To learn more about Abababa Tour, go to http://www.abababatour.com
Grant W Laird Jr.
http://blog.grantlairdjr.com
Comments :
2 Comments »
Categories :
deaf community
,
humors