14
02
2006

Brenden got my attention that we should try Lightscribe-based DVD Writer – we purchased
BenQ DW1655
on sale ($60 each) plus 30 DVD Lightscribe DVD blanks. Lightscribe DVD blanks are expensive so we figure we will get more next time — once it get cheaper later on.
Lightscribe technology is part of HP property but they seem focus with license with many different brands such as BenQ, Alienware, Philips, etc but not with few big brands like Memorex or Sony. (Don't ask me why)
It comes with Nero software included Lightscribe program. Since we already have full version Nero, all we need is Lightscribe plug-in and it works good.
Basically, we can put anything we want on it like you see these pictures. BenQ 1655 comes with one free Lightscribe-based CDR blank – we decide to try this one first and see how we did with it.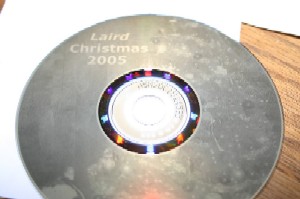 We found nice Christmas tree picture from last December 2005. We copy and paste into CD template on Nero software. We dragged it around to make it look nice. We even can do "preview" it and get the idea before we actually "lightscribe" it. We also add title on it.
First thing we did is burn all data of Christmas pictures from 2005 (backup or whatever) then we did Lightscribe next by flip over the disc. It took approximately 30 minutes to finish Lightscribe. It looks awesome.
It is not really much different than printable disc but it is more of fancy and cannot remove for good. It is not colorful either but maybe someday.
Take a look at pictures — #1 and #2 (Make sure you view it at full version to see it better)
Grant W Laird Jr.
http://blog.grantlairdjr.com