22
03
2006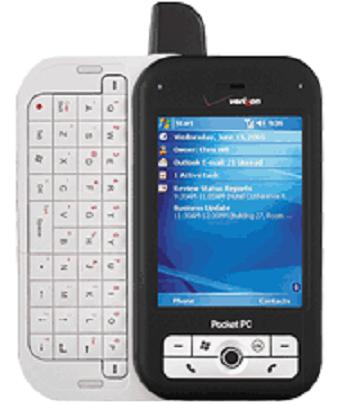 It's been few weeks now since I got my Verizon XV6700 replaced with XV6600.
It's pleased to know that XV6700 has numbers of improvement over old one. One of the biggest improvements is its window version – it is Windows Mobile 5.0 now while older one cannot upgrade at all. Only one bad thing is I had to purchase different kind of SD memory card – this one require mini-SD card.
My three biggest improvements on XV6700:
1. Windows Mobile 5.0
2. Comfortable keyboard function (nice slide out)
3. Wi-fi support
As you know that all cell phone provider now offer similar to XV6700 – all of them have Windows Mobile 5.0 including T-Mobile. Many people confused with this one compared to Sidekick II. In fact, they both are completely different.
Two weeks ago, Danger, Inc announced that they will stop make Sidekick II devices. That's mean they are prepare to release Sidekick III very soon – more likely this fall.
Often people will ask me which one is better in long run, reliability and good price. T-Mobile and Sidekick II remains strongest in this category. Blackberry is probably pretty good, too but if you have it under Sprint or Verizon, it is more expensive because of high-speed wireless network available. Don't be surprise Sidekick III may be increase since it is more likely will support high speed wireless network. (I hope not)
Read comparison – click here.
Grant W Laird Jr.
http://blog.grantlairdjr.com
Comments :
9 Comments »
Categories :
deaf community
,
Internet
,
technology