27
11
2006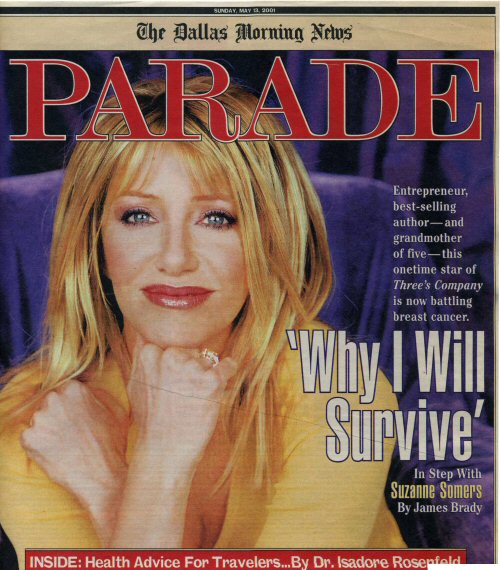 Remember old article from Parade Magazine called "They're breaking the sound barrier."?
This article published on May 13, 2001 by Lou Ann Walker (Two pages – see PDF format file below) — page 4 and 5.
<– Parade Magazine cover with Suzanne Somers
I found this old article in my box today and decide to scan it – I bet some of you never saw it before. Image it's already five years since it's published. It generally talks about technology that makes difference in deaf community.
Looking back five years seems not long ago especially all those technology we have now are generally pretty much same but better in many ways. It even talks about TTY but we are already virtually left them into dust – at least most of us do!
I wonder if we are evolving little slower than it should be. (Five years) Couples of things that are big impact last few years are Video Relay Service / videophone and deaf blogosphere. What else? It would be nice if they will do follow-up article five years later…
It also talked about few well known successful deaf people such as Gregory Hlibok (stockbroker), Carolyn Stern (doctor), Alexis Kashar (lawyer), and Marvin Herbold. (Software developer) It also showed timeline from hearing aid to closed captioning to cochlear implant to relay service since 1892.
Enjoy!
Comments :
1 Comment »
Categories :
deaf community
,
technology