15
05
2006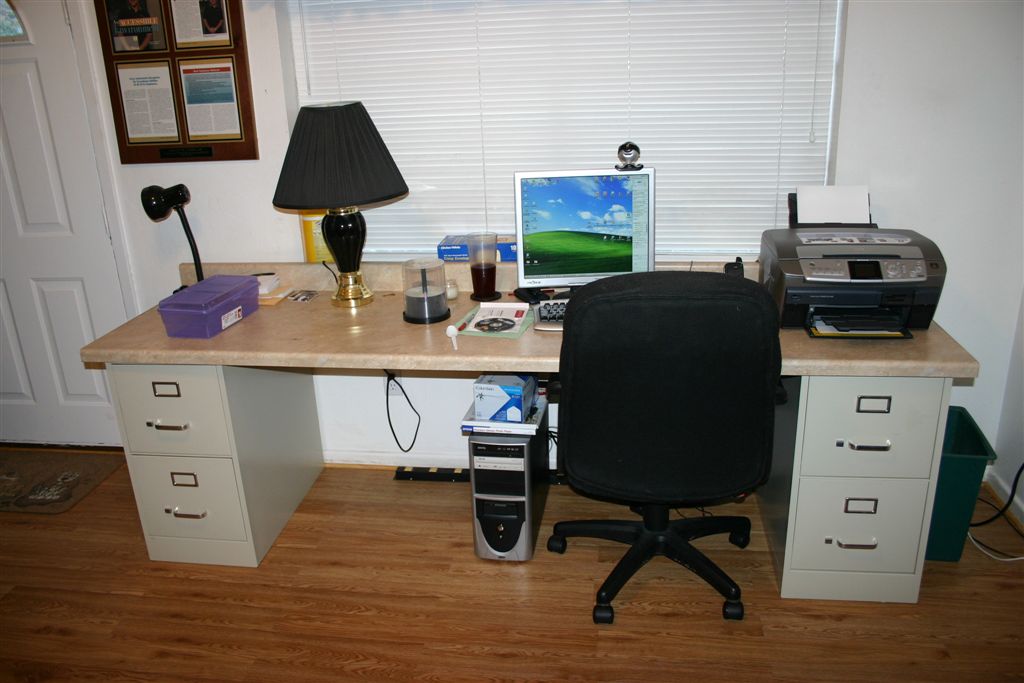 This is something I have in mind for long time.
I remember my father helped me make "homemade" computer desk years ago. It was so cool back then. Few months ago, my friend got used commercial type desk from store and it was awesome. It gave me some ideas where I can do similar for less.
Countertop
Home Depot and Lowe's are perfect place to shop around. Lowe's are only one that offers several different color on countertop such as green, black, tan, etc. Home Depot only offers one color. I got tan colored 8-feet countertop. They also have 4, 6, 8 and 10 feet countertop in stock. I drilled two holes on it where all wires can goes there.
I got a pair sidebar template. It was relatively easy to install – I had to use iron to heat it and it get attached to sidebar. It's only $15 dollars.
Cabinet
We did look at wood-type cabinet for around $125 dollars but it required stain paint and craps. However we saw nice metal 2-drawer cabinet at Sam's Club for $82 each. We got two of them. Office Depot and Staples have them too but they are over $100 each however they carry all colors while Sam's Club only offers putty type ones.
I spend about $250 on this huge multimedia desk – plenty room for 2nd person to sit next to me.
2 – Hirsh 2-Drawer Commercial Vertical File (putty) – $82 each plus tax
1 – Countertop type (tan-marble type) 8-feet long – $70 plus tax
1 – Pair of sidebar template (color matched) with extra wood and nails – $15 plus tax
What do you think?

Grant W Laird Jr.
http://blog.grantlairdjr.com
Comments :
4 Comments »
Categories :
general