9
01
2006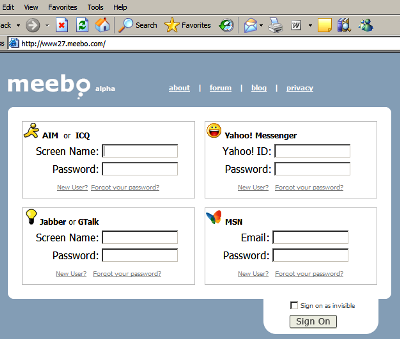 Few days ago, Dave posted comment about Meebo and I did not try it out till today. Meebo is web-based IM client exclusively — all you need is make sure javascript is on. it works flawlessly for me.
It appears to be very nice and smooth — better than most of web-based interface such as e-messenger.net
Meebo program itself based on AJAX which one of the newest technology. I don't know much about it but you can see it's already showing some promise for future.
I probably wouldn't use it daily basis but I definitely will use when I am on road or at someone's else computer.
They promise to add many more features and as well as mobile version. It's very exciting.
To learn more about Meebo, go to http://www.meebo.com
Grant W Laird, Jr.
http://blog.grantlairdjr.com
Comments :
1 Comment »
Categories :
links
,
Misc